***
When I discovered that Addison Albright was releasing a new novel I could scarce wait to get my sticky mitts on it.  I'm so chuffed I did…and managed to snag the last spot on her Release Blitz Tour with OWI for this fabulous MM time travel romance 🥰
Please read on for my review and an exclusive interview with Addison on the subject of 'stakes' in When Are You?
Blurb:
They have to find him…but how?
A former member of an elite military special forces unit, Leo Bailey can handle anything life throws at him. Except maybe approaching a certain gorgeous, purple mohawk-wearing, heavily pierced artist. Not without his three eye-rolling wingmen along to push him in the right direction.
One look at the mouthwateringly muscled, military buzzcut-sporting man with the endearing blush, and Vincent Noland is in love. Or at least in lust. Love comes later. Then marriage…and sweet, adorable Oscar.
Life is perfect—the stuff of fairy tale happily ever afters—except for Arthur Fletcher, whose unsettling reactions to them threaten to upset the happy balance of their lives. But it isn't Arthur who throws their lives into turmoil.
A freak event causes Oscar to go missing and leaves both men frantic to rescue their son. As they piece together the clues, they discover that Oscar isn't somewhere. He's somewhen. And Arthur Fletcher holds the key—or rather the glass beads—to their one chance of finding Oscar.
Will Leo's training, Vinnie's determination, and Arthur's knowledge help them rescue Oscar, or is the little boy doomed to spend the rest of his life at the mercy of a primitive civilization? Could there be a third possibility?
Publisher | Amazon | Barnes & Noble | Kobo | QueeRomance Ink | Goodreads

My Review
❤️❤️❤️❤️❤️
When Are You? is a fantastic time travel tale that brought about a minor miracle: making sense to a brain that belongs at the back of the class, doodling on a desk as science takes a swift trip through one ear and out the other.
How wonderful it was not being clobbered by concepts I didn't have a hope in hell of understanding. Instead, I found myself treated to a story that made time travel seem a reasonable proposition, and a tear in the air, as credible as lightning. A feat my utter lack of left brain was convinced could only be pulled off by the twinkle in David Tennant's eyes.
This is Addison Albright's first novel-length release since the fabulous To Love and To Cherish, one of my very favourite reads. The trilogy it completes is a brilliant, beautifully written castaway tale in which Addison's incredible attention to detail and charming characters craft a story as fresh as it is captivating.
Thus, I was thrilled that she was again dipping her toe into waters she excels at. A world away from formulaic; Addison takes a trope and makes it her own with a unique tweak that reinvents a well-worn wheel. It was a delight to discover that in Where Are You? she has done it again…with utmost aplomb.
We are introduced to Leo and Vinnie on the day they meet, an irresistible encounter complete with incorrigible wingmen who all-but frogmarch Leo into Vinnie's life. I was charmed from the first chapter: a superb introduction to our characters, the spark that flares between them and an insight into what makes them tick.
Although there is romance inherent in the depth of their love, this isn't a 'romance'. It's an enthralling story about an established relationship that explores the boundlessness of unconditional love. Encapsulated by time travel. I loved it.
❤️❤️❤️❤️❤️
Thank you so much, Zakarrie, for having me here and helping me celebrate the release of my new novel on your fabulous blog!
It's a pleasure. Always.🥰  Thank you for being here…and particularly for pulling on your big girl panties to tackle those tricksy blog post questions… 😁
***
I came across a post, titled "6 Questions to Make Sure Your Story Has Stakes" after "When Are You?" was already submitted/contracted/scheduled. I was a bit reluctant to click the link since it was too late to make any significant changes to my story.
But I put on my big-girl panties and clicked anyway, because I was pretty sure the stakes in my story were high enough to pass any test. I did already understand the concept of needing some kind of stakes in the story, even though I hadn't come across this specific checklist before.
Here are the six questions the blog post posed, and my answers:
If the protagonist fails, what happens? Something bad must happen if the protagonist fails to achieve their goal.

First, let me explain the "mission" our protagonists are facing. Leo and Vinnie were minding their own business, living the happy life, when they unwittingly ran through a rift in time (although they didn't know that's what it was while it was happening). Their young son, Oscar, is with them. In the mad scramble to backtrack through the portal, Oscar (and all but the handlebar of his stroller) gets left behind. They are cut off when the portal closes.

Most people think Oscar died in some kind of freak anomaly, but Leo and Vinnie know they were cut off from him, and Oscar was alive and well at that moment. So, their first goal is to rescue Oscar from "where"-ever he his.

Eventually they put together enough clues to figure out that Oscar isn't somewhere, he's somewhen, and not everything that was "supposed" to be left behind, was. They also figure out that due to how very long ago the rift opened at the other end, the butterfly effect could change literally everyone and everything in the country—and maybe the world—if they don't succeed (meaning, if events don't unfold precisely as the evidence indicates they already did). The fact they haven't been zapped from existence tells them the timeline has not yet veered from course, and therefore the portal must reopen, and they will have their chance to rescue their son.

Is this the worst thing that can happen to the protagonist?

Yes. Even if the stakes were only about rescuing their son without any butterfly effect considerations, they consider not taking the risks inherent in their mission to be worse than everything they might give up if they become stuck there with Oscar.
But the stakes are indeed higher than that. If Leo and Vinnie decided not to try, and they missed the portal's reopening, then they, Oscar, and everyone they know and love would likely all cease to exist.

Are the stakes tangible? Will an actual action happen if the protagonist fails to achieve his goal?

Yes. Although I suppose it could be argued that if you ceased to exist, you would no longer have any skin in the game.

Are the stakes worth fighting for? The protagonist can't be ambivalent to the stakes.

Hell yes. Leo and Vinnie are grief-stricken to the point they're going through with their plan for Oscar's sake. The butterfly effect stakes are just a bonus consideration to them.

Who else cares about the stakes? If only the protagonist cares, the stakes may be too small. Stakes cannot be inconsequential.

A certain archeologist who knew (generally) what would happen before it happened, was terrified enough of the potential consequences of not letting everything unfold as he knew they must, that he fought against his ethical inclinations to forewarn the family. Otherwise, only friends whom Leo needs to help him prepare the rescue mission are shown the evidence to convince them of its reality. They don't want to risk the timeline by informing the masses. But I'm pretty sure that anyone who knew and believed would very much care about the stakes.

If your protagonist succeeds, do they save the day? Avoiding the stakes must feel like a giant victory!

Yes, succeeding would save the day. And of course, they absolutely save the day…or rather the millennia. I can promise an HEA, but I can't really share the details without getting too spoilery.


---
Giveaway
Addison is giving away three sets of a $10 Amazon gift card and a backlist eBook with this tour. For a chance to win, enter via Rafflecopter:
Direct Link: http://www.rafflecopter.com/rafl/display/b60e8d47111/?
---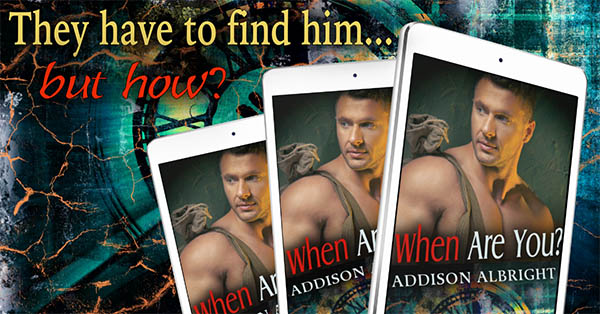 Excerpt
They reached the quivering wall of air and rushed through it to the sound of the old woman on the bench screaming as their shoes found purchase on the park's pervious rubber pathway, and they surged forward…then tumbled headlong onto the surface as the counterweight they'd been pulling vanished.
Leo grunted as his forearms scraped along the path. He stared uncomprehendingly at the stroller's handlebar, still clutched in one hand. The handlebar and about six inches of pole on either side ending with a clean cut.
Leo gaped, unblinking and breathing heavily, at the path behind them. The wavering air…it was gone. The air was normal.
The woman hadn't stopped screaming. Vinnie was panting—hyperventilating?—and snatching at bits of light green fabric that matched the stroller's canopy.
"Oscar?" Leo's voice came out in a squeak. Louder, he repeated, "Oscar?" He sat up and scanned the area. An unrelenting hand clutched his heart. Squeezed it. Squelched it. Liquified it. Oscar was gone. The entire stroller, other than the handlebar, was…gone.
Leo shoved his sunglasses to the top of his head. His breath caught in his throat, and he looked around again. He shouted, "Oscar!"
"No, no, no, no…" Vinnie chanted as he stumbled to his feet and spun around, fruitlessly looking everywhere…anywhere. He snatched another bit of green fabric floating on the air. "No, no, no, no…this isn't happening."
"Oscar!" Leo yelled again. His stomach lurched, threatening to heave because their actions were pointless. Wherever they'd been, that's where Oscar still was. The portal had snapped shut, cutting them off, but every cell in Leo's body screamed in denial of this reality. "Oscaaaaar!"
The woman stopped shrieking but sucked in rattling breaths behind her hands that now covered her face. Behind them on the path, voices broke through Leo's focus.
"Oh, my God, did you see that?"
"What the hell just happened?"
"They just disappeared…into…thin air."
"What happened to the kid?"
"Somebody call 9-1-1!"
In the field, the people who'd been kicking soccer balls had stilled and were staring, wide-eyed.
Vinnie crumpled to the ground, hugged his knees to his chest, bits of green fabric clutched in his hands, and rocked. Leo barely heard Vinnie's words as they tore his heart in two. "No, no, no, no…"
Leo doubled over and retched. He'd failed Oscar. He'd failed Vinnie. He'd failed. Utterly and completely failed.
He hadn't cried since middle school, but a garbled sob escaped him now. He dragged a forearm across his mouth and turned back toward where the wavy air had been. "Oscaaaaar!"
"Where did it go?" Vinnie choked on a rattling sob of his own. "Where did it go? We've got to go back and get him! Where did it go?"
Leo lifted his face to the sky. "Oscaaaaar!"
The faintest of echoes was the only answer to Leo's agonized plea.
---
Author Bio
Addison Albright is a writer living in the middle of the USA. Her stories are gay romance in contemporary, fantasy, paranormal, and science fiction genres. She generally adds a subtle touch of humor, a smidgen of drama/angst, and a healthy dose of slice-of-life to her stories. Her education includes a BS in Education with a major in mathematics and a minor in chemistry. Addison loves spending time with her family, reading, popcorn, boating, French fries, "open window weather," cats, math, and anything chocolate. She loves to read pretty much anything and everything, anytime and anywhere.
Author Website: https://authoraddisonalbright.com
Author Facebook (Personal): https://www.facebook.com/addison.albright.profile
Author Facebook (Author Page): https://www.facebook.com/AddisonAlbright
Author Twitter: http://twitter.com/AddisonAlbright
Author Instagram: https://www.instagram.com/addison.albright/
Author Goodreads: http://www.goodreads.com/author/show/2739864.Addison_Albright
Author QueeRomance Ink: https://www.queeromanceink.com/mbm-book-author/addison-albright/
Author Amazon: https://www.amazon.com/Addison-Albright/e/B00J119QGS/